Comparing Roofing Materials: 4 Types You Need to Know
Whether you are filing for a storm damage insurance claim or want to pay for expert roof repair services out of pocket, finding a high-quality and inexpensive roof replacement and repair expert in North Texas can be challenging. We will compare the qualities of different types of roofing materials in this post. What roofing material is best for you? Let us find out.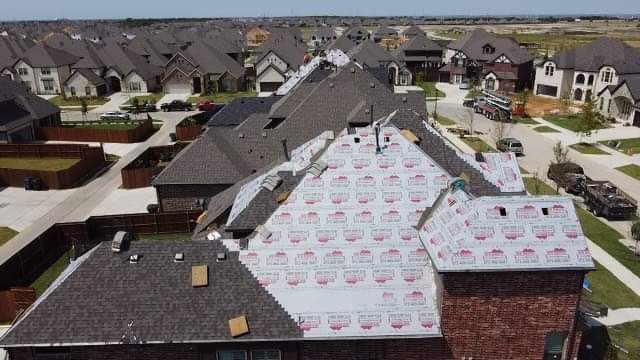 Types of Roofing Materials
A roof serves more than a functional purpose. New roofing can drastically change the appeal of your house, raising its beauty and freshening its look. Roofing materials have a significant impact on the aesthetic of your house. The different roofing materials include:
1. Asphalt Shingles
Asphalt shingles are one of the most cost-effective roofing options. The cost savings make the composite roofing material very prevalent in the U.S. The asphalt shingles composite a fiberglass base layer with an asphalt and mineral granules top layer. The shingles come with a 20-30 year warranty, making them a top choice among Texan homeowners.
2. Wood Shingles
Wood shingles, at double the cost of asphalt shingles, last 50 years. Wood roofing is beautiful, but, unfortunately, it attracts a hefty price tag. When installed correctly, wood shingles last very long. They are best for luxury homes.
3. Metal Roofs
Metal roofing is a solid and durable solution. A metal roof can last hundreds of years and comes in many shapes and sizes that increase or decrease this lifespan. The standing seam metal roof is the most popular type of metallic roofing. The only drawback to these roofs is that they can only be installed by highly skilled individuals and can be very expensive.
4. Tile Roofs
Tile roofing is another durable roofing solution that can last up to 100 years. Tiles can be red, unglazed clay commonly found on rooftops or concrete. The tile roof will also require additional structure to support all the weight.
Bottom line
DFW Roofing Pro is a local family-owned business with our main office in the heart of McKinney, TX. We are a general contractor, which means we can handle the full scope of any roofing damage insurance claim.
We provide highly personalized roofing repair and installation, ensuring you, the customer, is delighted. Call or email us today for a free, no-obligation roof inspection/quote.