5 Questions that you should ask Roofing Contractor when opting for Roof Replacement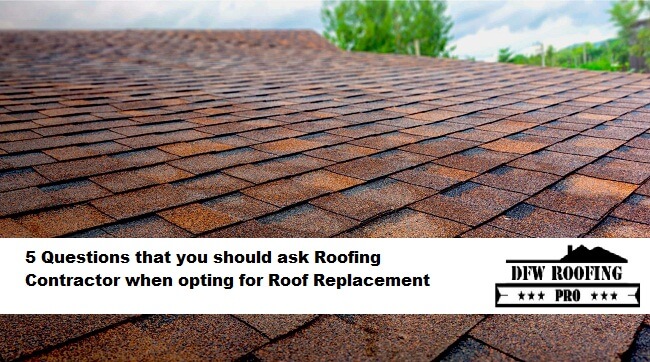 Roofing projects involve a significant amount of investment. So, if it is executed in the right way, then it can very well increase the value of your property as well as provide you with the peace of mind.
On the contrary, if it is not done in a right way, then it can very well damage the interior & exterior.
So, it is recommended that you opt for a good Dallas Tx Roofing company who can assist you in all the roofing needs that you might be having. One such company that you should think about hiring is DFW Roofing Pro as they are experienced enough to get the job done for you.
So, today in this blog, we would be discussing the 5 questions that you should be asking your roofing contractor before opting for roof replacement.
Let us have a look:-
Ask them were we can find their reviews
If a roofing contractor is reputed, then he can very well suggest you the places where you can find their online reviews. In this way, you will be able to determine if a roofer is capable enough to execute your project.
How long they have been into roofing industry?
Everyone wants to hire a roofer who has hands on experience in installing and repairing hundreds of roofs. Make sure that the company that you are hiring has at least 10 years of experience into this industry.
Ask them if they are licensed
The rule of thumb should be that a roofing contractor should be insured and licensed. Ask the roofing contractor that you are hiring to provide verification of the licensing requirements and also showcase the proof that the workers that they are having is completely insured.
In this way, you won't have to worry if anyone gets injured at your job site. So, a reputed roofing contractor would have the entire insurance and licensing requirement before they would start with your work.
Also Read: How important is it to get your roof repair/replacement done before selling your home?
Are they using any subcontractors?
Ask the contractor that you are hiring if they outsource any part of their work. If that is the case, then look out for anyone else or perhaps ask the same above questions to the sub-contractor.
What are the warranties that I would get?
Ask the roofing contractor that you are hiring about the warranties that they would provide with the project. Some of the warranties that are included are workmanship and materials.
Apart from this, you would also receive a separate warranty from shingle manufacturer or any other kind of materials that comes alongside with a new roof.
Therefore, it is important to work alongside a roofing company that provides good quality installation. The reason is that defects in the installation might defeat the purpose of warranty that is being offered by the manufacturer.
Lastly, ask the roofing contractor that you are hiring about the written copies of warranties that is applicable for the roof.